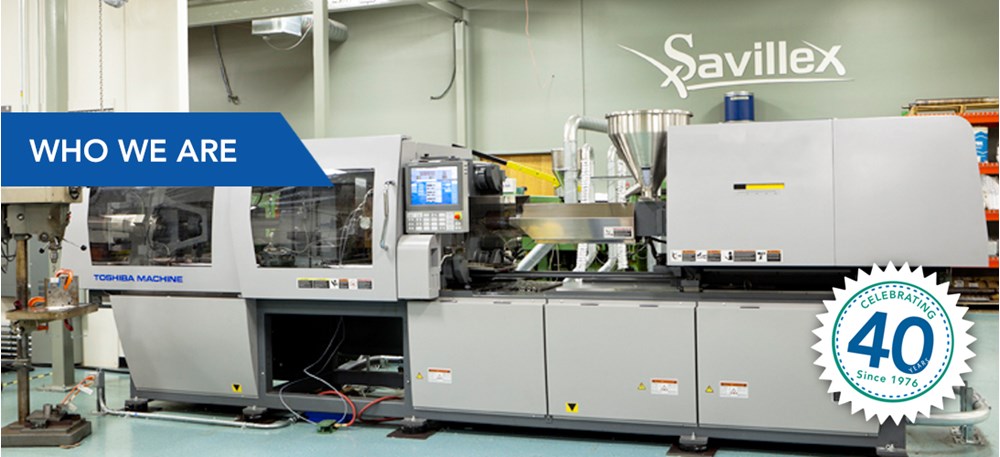 Overview
Savillex has been manufacturing fluoropolymer products since 1976, supplying some of the world's largest companies and universities. Our main business groups consist of Labware, Packaging, ICP Sample Introduction Systems and Custom Services.

Throughout all of our businesses, our goal remains the same: to apply our know-how in fluoropolymer molding and machining to develop the world's best fluoropolymer products – what ever the application. We manufacture the widest range of PFA labware, from vials and columns to pressure vessels and filter holders.

For pharmaceutical and chemical packaging applications our PFA and FEP Purillex™ bottles are produced using proprietary blow molding technology which gives them unique properties. Our PFA Sample Introduction Systems for ICP-OES and ICP-MS expand the capabilities of these techniques, allowing chemists to measure metals at lower levels, in a wider range of sample matrices. And finally, our Custom Services business group has solved some of the biggest technological challenges for some of the world's most advanced technology companies.

Our 40+ years of experience in the molding and machining of fluoropolymers enables us to develop products and solutions unavailable elsewhere. With a melting point of 300°C, PFA is one of the most difficult polymers to mold, and requires highly specialized molding tools and a great deal of experience and expertise. Unlike other companies, we design and manufacture all of our molding tools in-house which gives us great speed, flexibility and complete control of product quality.

We are able to design and mold products with very small production runs and can also modify many of our standard products. If you don't find what you are looking for, please email us your request.

_______________________________

SAVILLEX

10321 West 70th Street
Eden Prairie, MN 55344-3446
USA



952.935.4100

info@savillex.com

_______________________________
Leadership Team
Terry Nagel, President

Terry is the President of Savillex. An experienced executive with a passion for sales, Terry strives to provide an overall culture that benefits customers and employees.

______________________________

Giving up as little space as possible between the customer and Savillex is a winning strategy.

Norm Roth, Executive VP, Operations

Norm is Executive VP, Operations, and is responsible for start to finish quality of products and services. From the time an inquiry is made, until the product leaves the dock, Norm and his team makes sure you receive the best quality product and exceptional service.

_______________________________

Quality Means Doing it Right When No One is Looking.
Location
Savillex is located in EdenPrarie, Minnesota, a subburb of Minneapolis/St.Paul.

Savillex

10321 West 70th Street
Eden Prairie, MN 55344-3446
USA
Directions to Savillex

952.935.4100

info@savillex.com

_______________________________
Markets Served
Markets Served Throughout science & industry

Biopharmaceutical

Single-use technology (SUT) offers improved flexibility, reduced risk of contamination and lower costs.in biopharmaceutical manufacturing. SUT fluoropolymer bottles are used for the storage of bulk drug substance where blast freeze conditions are required. Savillex PurillexTM PFA and FEP bottles were designed specifically for BDS storage and are used widely in the biopharma industry due to their superior sealing and ultra-low particulate content.

Chemical

Fluoropolymers, and PFA in particular, are becoming more widely used in the chemical industry, as the need for cleanliness higher temperature capability and chemical inertness has increased. Savillex makes the widest range of fluoropolymer components for the chemical industry, enabling chemists to build their own custom systems for fluid handling, filtration and gas sampling.

Environmental

In recent years, ICP-MS has become the standard technique for trace metals analysis in the environmental testing industry. The greater sensitivity of ICP-MS has also put greater emphasis on the quality of reagents used. Savillex's DST range of acid purification systems provide fresh, high purity acid at a fraction of the cost of commercial bottled acid, resulting in significant costs savings for the lab, while Savillex's PFA labware and filtration products are widely used in the industry for sampling and storage.

Geochemistry

Savillex products are used in just about every geochemistry lab worldwide, from sample digestion vials, storage bottles and cleaning systems to microcolumns and ICP sample introduction systems. Savillex's expertise in PFA molding and contamination control during manufacturing has enabled it to produce many products that have helped improve the accuracy and precision of measurements in geochemical research.

Nuclear

Fluoropolymers are widely used in the nuclear industry, where the need for low metals background and chemical inertness – particularly for HF – are critical. Savillex makes the largest range of fluoropolymer components, enabling chemists and chemical engineers to construct their own custom systems for fluid handling, filtration and gas sampling, while in the analytical lab, Savillex products are used widely with ICP-MS and many areas of sample prep and sample preservation.

Semiconductor

Semiconductor users push the limits of trace metals determination more than any other industry. Savillex's know-how in fluoropolymer molding, in-house tooling, design and manufacturing enables it to produce the cleanest available PFA products – helping semiconductor labs to meet ever lower measurement targets. For the past 10 years, Savillex has focused on designing the highest performing PFA sample introduction products for ICP-MS. Savillex inert ICP-MS sample introduction systems are used in more semiconductor labs worldwide than any other manufacturer.
Our Customers